Arbutus Walk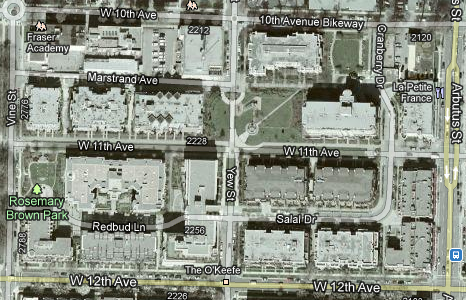 The City of Vancouver started rezoning marginal industrial lands in Kitsilano, beginning with the Carling at O'Keefe Brewery site, for residential housing in 1989. As a result, the Vancouver City Council adopted the Arbutus Neighborhood Policy Plan in 1992 from which different developers began constructing strata unit and single attached properties in the Arbutus Walk neighborhood. The Plan, which reflects many key principles of Metro Vancouver's Regional Growth Strategy, helped develop one of the most cohesive and beautiful neighborhoods in the Lower Mainland. The neighborhood is surrounded by an abundance of green-spaces and walkways. In fact, the section of West 11th Avenue that runs through the Arbutus Walk neighborhood was converted into a permanent Greenway. The condominium complexes are also just blocks away from recreational and commercial shopping centers! Below are some statistics on the Arbutus Walk neighborhood and strata unit complexes:
There are total of 12 buildings and 952 units within the area

As of November 29, 2012 there are 23 active listings that are listed at an average of $539,056 and $661.83 per sq. ft.

Within the past year (November 29, 2011 to November 29, 2012) there have been 38 sales, which sold for an average of $675.27 per sq. ft. and 97% of their listing price.
---

Mozaiek, 2788 Vine Street

Building:

Year Built: 1998

Management: Southview Property Management

Features:

Consists of 30 UNITS and 4 STORIES

Concrete construction

Offers both CONDOMINIUM UNITS (strata) and TOWNHOMES (single attached property).

Garden entrances
---

Ansonia, 2268 Redbud Lane

Building:

Year Built: 1998

Management: Gateway

Features:

Consists of 81 UNITS and 6 STORIES

Concrete construction

Architectural design makes use of contemporary brownstone finish

9' ceilings in units
---

Zydeco, 2768 Cranberry Drive

Building:

Year Built: 2001

Management: Gateway

Features:

Consists of 70 UNITS and 4 STORIES

Offers both CONDOMINIUM UNITS (strata) and TOWNHOMES (single attached property).

Built with 10 commercial properties

Wooden frame construction with integrated rain screen technology

Wheelchair access
---

Tropez, 2263 Redbud Lane

Building:

Year Built: 2002

Management: Gateway

Features:

Consists of 87 UNITS and 4 STORIES

Concrete construction

Pets are allowed

Visitor parking available

Large locker spaces

Strata units have gas fireplaces
---

Tapestry at the O'Keefe, 2799 Yew Street

Building:

Year Built: 2003

Management: Gateway

Developer: Concert Properties

Features:

Consists of 42 UNITS and 8 STORIES

Property aimed to house retired individuals

Building as complimentary transport services

Has a fitness and spa center

Integrated 24 hour emergency response system
---

The Carlings, 2181 and 2161 West 12th Ave

Building:

Year Built: 1997

Management: Vancouver Condo

Features:

Consists of 100 UNITS and 4 STORIES

Wooden frame construction

Architectural design makes use of contemporary brownstone finish

Large storage lockers

Wheelchair access to both buildings
---

Savona, 2175 Salal Drive

Building:

Year Built: 1999

Website: www.soloduotreo.com

Management: Wynford Group

Developer: Concert Properties

Features:

Consists of 103 UNITS and 4 STORIES

Mediterranean themed architectural design

Wooden frame construction with integrated rain screen technology
---

Connaught Place, 2628 Yew Street

Building:

Year Built: 1999

Management: Wynford Group

Developer: Redekop Development

Features:

Consists of 58 UNITS and 4 STORIES

Brownstone exterior finish

Wooden frame construction with integrated rain screen technology
---

Solo,

2228 Marstrand Avenue

Building:

Year Built: 1999

Building Website: www.soloduotreo.com

Management: Vancouver Condo

Developer: Intergulf Development Corp.

Features:

Consists of 99 UNITS and 7 STORIES

Offers both CONDOMINIUM UNITS (strata) and TOWNHOMES (single attached property)

Concrete construction

Fitness center

Club Solo entertainment area

Bike lockers for storage convenience
---

Duo, 2228 Marstrand Avenue

Building:

Year Built: 1999

Website: www.soloduotreo.com

Management: Vancouver Condo

Developer: Intergulf Development Corp.

Features:

Consists of 99 UNITS and 7 STORIES

Offers both CONDOMINIUM UNITS (strata) and TOWNHOMES (single attached property)

Concrete construction

Fitness center

Club Solo entertainment area

Bike lockers for storage convenience
---

Treo, 2688 Vine Street

Building:

Year Built: 1999

Website: www.soloduotreo.com

Management: Vancouver Condo

Developer: Intergulf Development Corp.

Features:

Consists of 99 UNITS and 7 STORIES

Offers both CONDOMINIUM UNITS (strata) and TOWNHOMES (single attached property)

Concrete construction

Fitness center

Club Solo entertainment area

Bike lockers for storage

convenience
---

New Yorker,

2655 Cranberry Drive

Building:

Year Built: 2001

Management: Wynford Group

Developer: Bastion Development

Features:

Consists of 84 UNITS and 7 STORIES

Concrete construction